Business Hours
10:00 → 18:00
Fabrizio's company is small, but great for goals and ambitions.
The vineyard area has 5 hectares of vineyards, which allow family management and, above all, attention to the smallest details of the entire production cycle.
In the vineyard nature grows lively and luxuriant: Fabrizio does not use herbicides and undertakes to keep chemical treatments to a minimum.
Always with a view to respecting the environment, the winery is powered by green and clean energy, thanks to solar panels that eliminate the need to use gas.
Every year about 25,000 bottles are produced, all vinified with healthy grapes and with great care, from fermentation to bottling.
Events
at Fabrizio Battaglino
The Wines
The production is personally supervised by Fabrizio, from grapes to bottle.
In the labels produced you can find the aromas and flavors of the territory.
To age his wines, Fabrizio uses only barriques.
The choice falls on needs dictated by the small size of his cellar, but this does not exclude a long period of experimentation and experience that convinced him to continue on this path.
The wines aged in barriques are balanced, elegant and tell the story of the grapes with which they are produced without focusing on the barrel roasting.
To test the result, during the tasting it will be possible to examine Nebbiolo d'Alba DOC Para'Di' and Roero DOCG Colla.
Both vinified with Nebbiolo grapes, grown in soils with different exposures, they follow the same steps in barriques, for the same period and in barrels of the same age. The result, however, is extremely different.
Alongside these bottles, Fabrizio also produces Barbera, Roero Arneis, passito and a Metodo Classico of Nebbiolo grapes.
Produced Wines
Roero DOCG Riserva Colla,
Roero DOCG Colla,
Roero Arneis DOCG Bastìa,
Barbera d'Alba DOC Munbèl,
Nebbiolo d'Alba DOC Para'Di',
Vino Bianco Passito Bric Bastìa,
Metodo Classico Brut Nebula Nature
Vineyards Location
Vezza d'Alba
Agricultural Method
Integrated pest management
Visits & Tastings
There is only one way to find out if the choice of the barrique is right: taste the wines with Fabrizio.
The visit begins with a walk in the Colla and Sergentin vineyards. Here the view is stunning and sweeps over narrow gorges and steep slopes typical of the Roero, up to the Abbey of Superga, in Turin.
You'll then continue in the cellar, in the fermentation and aging rooms, to learn about the production process and aging.
At the end of the visit, you'll move on to the guided tasting, during which Fabrizio tells the story of each label.
The wine tasting is accompanied by small snacks of local products such as cheeses, cold cuts and homemade focaccia cooked in a wood oven.
Tasting Price
Starting at 10€
Prices & Services
Information regarding the visit
Price
€ 10.00 per person
More information
At the end of the tour it is possible to buy wines at favorable prices
Purchased bottles can be sent directly to the home
Your pet friends are welcome
The parking is large and can accommodate cars and buses
Services
Pets Allowed Direct Sales WiFi Parking Lot
Accepted Payments
Visa / Cartasi Mastercard American Express Diners

Via Montaldo Roero, 44, 12040 Vezza d'Alba, Vezza D'alba CN, Italia
Directions ↝

Via Roma, 3, 12040 Baldissero D'alba CN, Italia
Discover ↝



Castello di Guarene, Guarene, CN, Italia
Discover ↝


SP241, 9, 12066 Monticello d'Alba CN, Italia
Discover ↝

For information and reservations fill out the following form, you will be contacted as soon as possible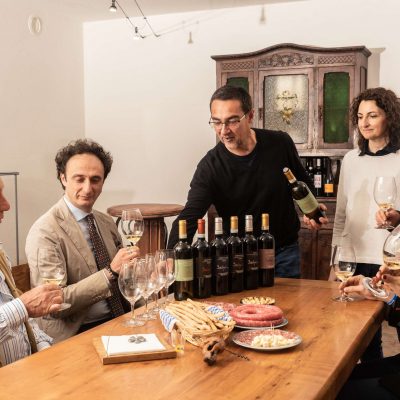 Business Hours
10:00 → 18:00