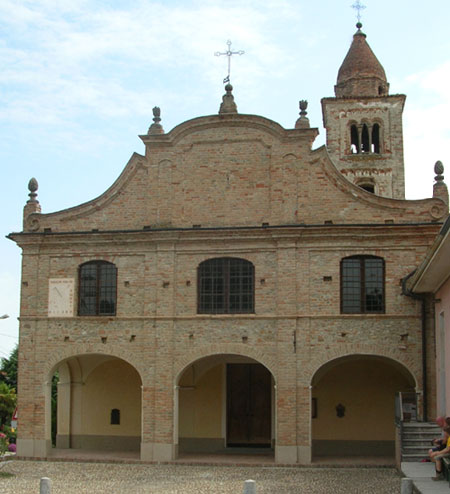 The Annunziata abbey
Three kilometers far from La Morra, on the road to Alba, there's the beautiful Annunziata village. There it's possible to see the romanic-baroque benedictine abbey of saint Martin of Mercenasco: a church with a facade of the seventeenth century, the apse and a bell tower of the XV century. The restoring have uncovered some of the primitive columns inside, with their stone bases, and a Roman tombstone from the I century a.C. In the apse there are some XV- and XVI-centry frescos, while an older painting, found in a side chapel, has made the historians change their mind about the age of the whole church, older than they had thought.
The abbey, surely one of the most importan monuments of the Langhe, is the most ancient building of La Morra; when the top of the hill was still covered with woods, here the monks used to farm vineyards of nebbiolo, moscatello and pignolo, a now extinguished kind of grapes. Near the abbey there are the vineyards of the Conca di Marcenasco; not far is the Monfalletto hill, and the crus of the Rocche and Arborine.
In the cellars of the abbey – the entrance is near to the facade of the church – is sited the Ratti Wine Museum. Here the whole story of grapes and wine is told; it's also possible to see ancient farming tools and maps. The collection has been organized by Renato Ratti, a deep connoisseur of the wines of this land.
Events
in The Annunziata abbey and around
Eat & Sleep
in The Annunziata abbey and around
Are you planning a trip in the Langhe region?
Let us help you design the perfect vacation, and live your stay like a true insider
Ask us
For advice
Free Service
Ask us
For advice
Free Service
If you want locals people's guidance, and to plan your vacation in autonomy, fill out the form below. Tell us what you love and leave for an unforgettable trip!
Fill in the form
reporting your interests and preferences
Receive our suggestions
directly into your inbox
And if it's not enough
we'll design a personalized trip!