The Grand Wine Tour
Michele Chiarlo: Classic Tour
Tour con degustazione
Un itinerario per scoprire il lavoro di Michele Chiarlo e degustare i vini classici della cantina da lui stesso fondata nel 1956
Il Classic Tour prevede una visita alla cantina di Calamandrana, nel Monferrato, con un itinerario pensato per scoprire come vengono creati i vini di Michele Chiarlo, dalle tecniche utilizzate nella vinificazione alle sale di affinamento e imbottigliamento.
Il tour si conclude con la degustazione di 3 vini della linea Classica: Gavi DOCG Le Marne, Barbera d'Asti DOCG Le Orme "16 mesi", Moscato d'Asti DOCG Nivole.
Storia della Cantina Michele Chiarlo
Situata a Calamandrana, nel Monferrato, la cantina Michele Chiarlo produce vini a partire da alcuni dei cru più prestigiosi del Piemonte: Cannubi e Cerequio a Barolo, Asili e Faset a Barbaresco, Rovereto di Gavi.
La cantina possiede anche La Court, una delle più belle tenute del territorio, dove vengono prodotti Barbera e Nizza, la neonata denominazione Barbera a ottenere il riconoscimento della DOCG nel 2014. L'azienda vinifica solo uve autoctone piemontesi in purezza, utilizzando Nebbiolo, Barbera, Cortese e Moscato.
Certificata VIVA Sustainable Wine nel 2011, la cantina Michele Chiarlo segue un approccio agricolo integrato e sostenibile, monitorando da vicino l'impatto ambientale in tutte le fasi della produzione.
The Grand Wine Tour
The Grand Wine Tour è una Associazione che conta tra i suoi membri alcune tra le migliori aziende vitivinicole italiane, accomunate dalla capacità di offrire accoglienza dedicata a wine lovers e ad una clientela luxury.
The Grand Wine Tour è anche il primo Marchio di Qualità che attesta l'eccellenza dell'ospitalità presso le aziende vitivinicole italiane.
Installazione d'arte permanente
Art Park La Court
Wine Resort
Relais Palás Cerequio
The Grand Wine Tour – Michele Chiarlo: Classic Tour

Tour con degustazione / €16 / per Person
The Grand Wine Tour – Michele Chiarlo: Classic Tour

Tour con degustazione / €16 / per Person
Un itinerario per scoprire il lavoro di Michele Chiarlo e degustare i vini classici della cantina da lui stesso fondata nel 1956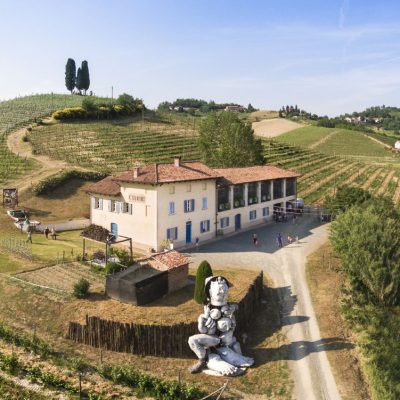 Installazione d'arte permanente
Art Park La Court
Wine Resort
Relais Palás Cerequio