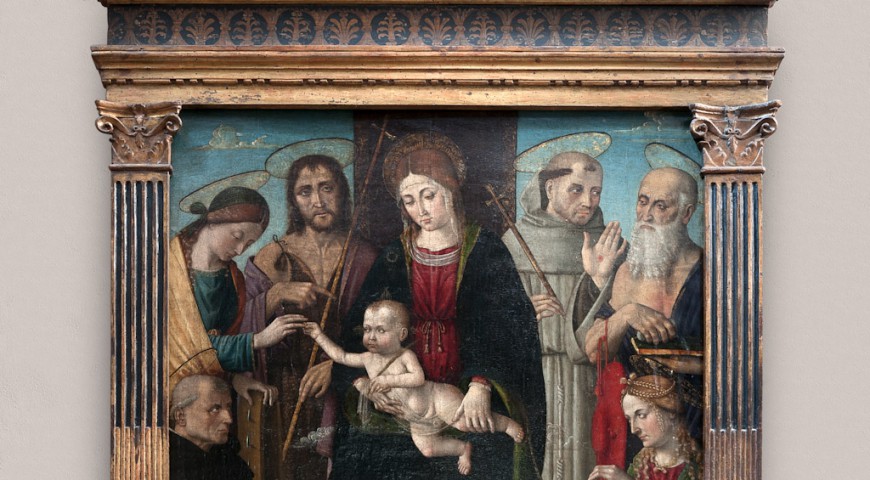 The Church
The San Giorgio church was built in the 15th century after the apostolic visitors insisted numerous times to move the Neviglie place of worship from the Concentric – where you can still see the ancient parish of San Michele – in the heart of the villa.
San Giorgio boasts three altars dedicated to St. Mary, St. Anthony and the St. Rosario, the latter was built in 1643 by the Busca counts, gentlemen of the place.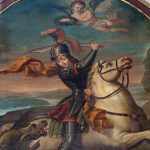 The parish's centerpiece is the magnificent tempera on wood by Macrino d'Alba, depicting The mystical wedding of Saint Catherine of Alexandria. The tempera is housed in the chapel of the Madonna, dating back to the early sixteenth century.
Other works of art worth noting are the sixteenth century painting depicting St. Bovo and the main altarpiece dedicated to the patron saint, San Giorgio.
The Mystical Marriage of Saint Catherine, tempera on wood
Regarding this small wooden tempera that adorns the chapel of the Madonna in the San Giorgio parish we only know for certain its clients: the Marquis of Busca…
…and the painting was considered as a work of art «by a good painter, but very faded perhaps due to old age and humidity» (Report on the state of the Neviglie parish, 1792).
The Problem of Attribution
The attribution of the Mystic Marriage of St. Catherine to the renaissance painter Macrino d'Alba is dated back to the late nineteenth century by Ugo Fleres, a tireless and prolific critic of art history. Hence the focus on the painting has significantly increased, challenging scholars as to its chronological position.
The most accepted theory today dates the composition of the painting to a late phase of Macrino's activity, certainly after 1508. Critics have found considerable similarities between the Mystic Marriage and the features of the Madonna and Child, a work of art by Macrino dated 1513.
What unites this work of art with the Madonna and Child from a private collection – writes Giovanni Romani in a recent study of Macrino – is the purely two-dimensional composition and the definitive renouncing of any comparison to human communication.
This, as far as the peculiar features of Macrino's later works is concerned.
However in painting St. Catherine he is redeemed and «through the delicacy of the modeling and the passage to soft color tones» he gives us «one of the most elegant images amongst his works of art».
The painting thus reveals the late hand of an exceptional painter who now, however, relies on the experience of his students and his workshop.
The painting depicts the Madonna in the center holding Baby Jesus who is placing a ring on St. Catherine of Alexandria, on the left; the symbol of a spiritual marriage between the saint and God. From left to right appear the Saints John the Baptist, Francis, Jerome, Vincenzo Ferreri and Magdalen.
photo credits: Corrado Morando – mocafilm.it
https://langhe.net/wp-content/uploads/2011/10/DSC_3370-Modifica.jpg
918
1024
Gabriele Pieroni
http://langhe.net/wp-content/uploads/2014/10/Langhe1.png
Gabriele Pieroni
2016-09-07 10:47:02
2018-04-17 14:07:08
The Mystical Marriage of Saint Catherine