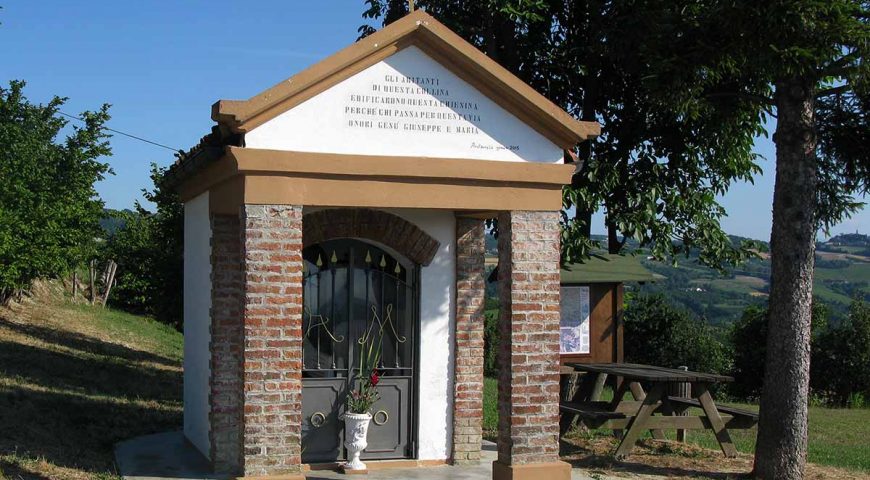 This characteristic site of worship rises ( 484 metres a.s.l.) between the current hamlets of Gabutto and Bricchi. It is located at the intersection of the existing Sinio–Montelupo Albese road itinerary and the road leading from the houses of Morenghi.
The secondary path coincides with a stretch of the ancient "road from Alba to the sea", confirmed in documents dating back to the thirteenth century.
This road, originating from the medieval place of Uriolo in Montelupo, brought to the hamlet of Reale from Morenghi to then descend on a ford of the Talloria stream leading to Albaretto della Torre and beyond into the valleys of Belbo and Bormida, leading back up towards the area of S. Euphemia.
Toponym
Also significant, in relation to the ancient settlements in this area, is the name, "Brà", still in use in the seventeenth century to denote an extension of Sinio towards the territorial boundary with Montelupo Albese (where the hamlet of Brantegna is still located).
This is a place of ancient origin. According to some scholars, this name derives, as an abbreviation, from the Lombard term, brayda (farm estate).
According to others, if passed on with the article, –alla Bra or Labrà, despite having a similar derivation, instead reveals its late medieval origin.
However, this place name indicated a manor farm, that is, a colonial building with adjacent lands (almost always dependent on a church or religious institution).
History
This country chapel was rebuilt around 1945, replacing a pier portico devoted to Mary (Our Lady of Fatima), which already existed on the same site, but with a different orientation.
Partisans who were wounded during the Resistance (1943-1945) would also temporarily stop under this portico.
When it was entirely reconstructed, this place of worship was then dedicated to the Holy Family, as indicated by the inscription painted on the prospectus.
Restoration work was carried out in 2015.
https://langhe.net/wp-content/uploads/2017/08/rSacello-della-Sacra-Famiglia.jpg
901
1200
Walter Accigliaro
http://langhe.net/wp-content/uploads/2014/10/Langhe1.png
Walter Accigliaro
2017-07-30 16:29:57
2018-04-16 16:47:07
Country Sacellum of our Lady of Fatima and of the Holy Family