Azienda Agricola Rabino Luigi Giuseppe, Località Rabini 102, 12043 Canale (Cuneo), Italia •
Request a visit
• Tel: +39 017398118 • Fax:+39 017398118
For generations now the history of the Rabino family is intertwined with wine and work in the vineyard.
The Winery began to take shape in the mid 1800s, when Antonio Rabino decided to begin bottling wine for his family and friends.
Sharing, overcoming difficulties during the historical moments of the 1900s and an increase in demand, have made this family-run company, today, a reality tin the Roero region.
All activities are run by Luigi along with his wife Daniela and their children Paolo and Silvia.
Their produce is diversified: wine, breeding of Piedmont race calves, cultivating Canale peaches, apricots and the Tonda and Gentile Hazelnuts from the Langhe region.
Cavajè Sparkling Wine
This is one of the wines that's "worth a trip" to the company. It's a Spumante Brut with an Arneis base, produced in the municipality of Canale by the Vigna Cavajè; one of a kind.
Created for those looking for a wine with a spicy aroma, ideal for accompanying an appetizer and for preparing cocktails with a sparkling wine. Excellent, savored after a meal.
Visits to the Company
Passion and the same places despite numerous generations: the hills, well exposed to the sun, the 1600s farmstead and its arms that has always been the family symbol, and now the Company's symbol as well.
The vineyards are located between Canale and Cisterna.
The visit lasts roughly 1 hour. A stroll amongst the vineyard's rows around the house, a hint of the soil's characteristics and the climate introduce the visit to the Winery and the guided wine-tasting session.
Natural and environmentally sustainable agriculture is preferred in the vineyard, along with the use of natural fertilizers. Treatment is targeted and measured.
The wine making area is developed on two levels. The Historical Winery can be seen in its original form. A small crutin (cellar) still shows the marks of the picks that dug the tuff.
The Roero DOCG and Barbera d'Alba DOC are aged in the wooden barrels.
Two wine-tasting rooms welcome both small and large groups.
A non-equipped space is reserved for campers.Visitors find themselves the focal point of the vineyards and the landscape: whether it be the small neighboring towns, the vineyards or the Alps.
More information on tastings and prices can be found in the "Tastings" section.
Homemade jam
The apricots homemade jam is prepared according to the traditional recipe with apricots harvested at maturity.
With its intense aroma, it creates an excellent contrast of flavor. We recommend matching it with a typical Piedmontese toma.
The apricot jam served during tasting and the jellies can be purchased at the company for respectively € 5.00 and € 3.00.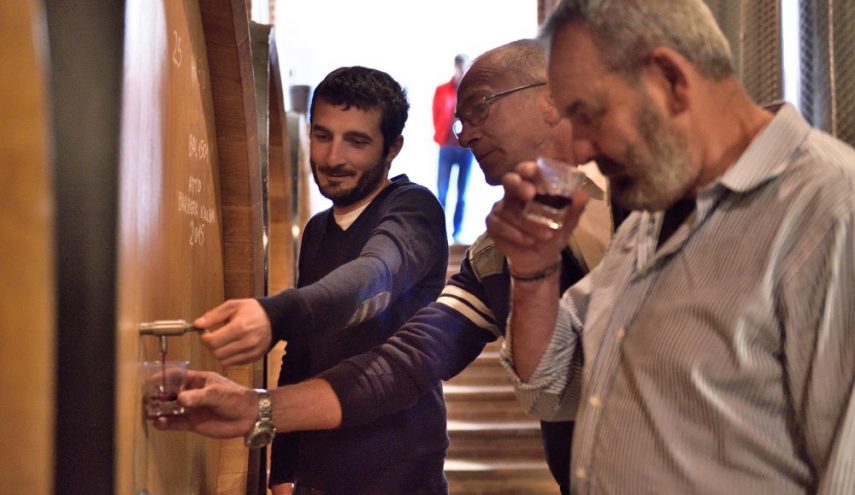 Information
Business Hours: from 9 a.m. to 1 p.m. - from 3 p.m. to 7:30 p.m.
Closing Day: -
Holidays: -
Email | Website
Tel: +39 017398118
Fax: +39 017398118
Cellar
Vineyards: 25 ha
Wines: Roero Arneis DOCG, Langhe Favorita DOC, Langhe Nebbiolo DOC, Roero DOCG, Barbera d'Alba DOC, Spumante Cavajè, Piemonte Brachetto DOC
Bottles: 30.000
Vineyards location: Canale e Cisterna
Method: Guyot
Biologic Method: No
Services
Direct
Sales
Animal
Friendly
Parking
 
Pagamenti