Ristorante - Osteria LALIBERA di Boffa Flavia e C. snc, Via Pertinace 24/a, 12051 Alba (Cuneo), Italia •
Book a Table
• Tel: +39 0173293155 • Fax:-
LaLibera is located in the quiet San Giovanni district, the historic center of Alba. It combines the elegance of a restaurant with the convivial spirit of taverns.
The dishes offered by Flavia Boffa and her staff are symbols of the traditional Piedmontese cuisine.
The philosophy of LaLibera is simple and direct: equal attention is given to those who stop to taste just one dish and those who choose the restaurant for a formal dinner or an evening with friends.
The restaurant room
Non-invasive natural light during the day, soft lighting for the evening and stained glass that allows you to get a glimpse of the chefs' work in the kitchen. Wines and cheeses are well displayed. There's also a secluded room for you to enjoy in privacy. LaLibera is the ideal setting for ceremonies, convivial moments and dinner for couples.
The European design chandeliers are well combined with the paintings by the Alba born artist Pinot Gallizio and still-life photographs by Luigi Ferrando.
The cuisine
It all begins with the selection of the raw materials: meat, cheese, fish. Chosen exclusively by Flavia from trusted vendors, farmers and local producers.
The choice of dishes depends on the availability of the product, on the season and sometimes even on the day itself: the menu is therefore establish day by day.
The experience is to discover the daily variations within each dish course.
The wine list
The wine list is the result of careful selection, tastings and meetings with the producers.
Alongside the Piedmontese wines, with special references to the Langhe and Roero, you'll find Italian and international wines as well.
There is also a selection of spirits, among which the famous grappas from Romano Levi, Marolo, Rovero and Sibona.
Flavia will guide guests through the best wine pairings, thanks to her experience and passion for sensory analysis.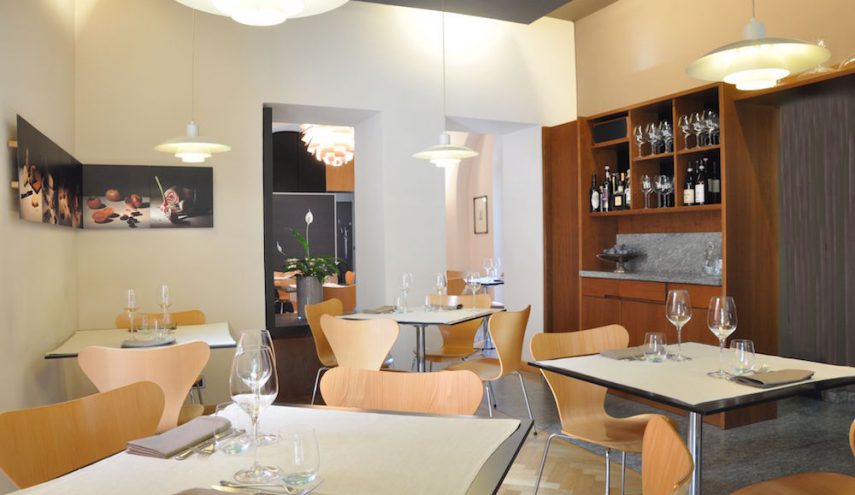 Information
Business Hours: Mondays: 20.00 - 23.00 - from Tuesday to Saturday 12.00 - 14.30 / 20.00 - 23.00. October: open every day.
Closing Day: Domenica
Holidays: from 8 August to 28 August - from 23 December to 9 January - Easter and Easter Monday
Email | Website
Tel: +39 0173293155
Fax: -
Restaurant
N Covers: 40
Veg Menu: Upon Request
Celiac Menu: Upon request
Special Dish: veal with tuna sauce, knife cut raw meat, ravioli del plin, finanziera, tiramisu
Tasting Menu: 38.00 €
Glass of wine: 4.00 €
Services
Direct
Sales
Accessible
 
Animal
Friendly
Air
Cond
Pagamenti